---
Vizitka
23. 7. 2007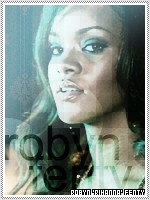 Celé meno: Robyn Rihanna Fenty
Dátum narodenia: 20 Február 1988
Národnosť: Bajanská/Guynejská
Miesto narodenia: St. Michael (Barbados)
Výška: 175cm
Vzdelávanie: High school
Zamestnanie: Speváčka
Podpísala zmluvu z: Def Jam Records
Domáce zvieratka: Korytnačka a pes Marley
                                       --------------------------------
Obľubená:
-farba: zelená
-film: Napoleon Dynamite
-herec: Terrence Howard a Denzel Washington
-herečka: Jessica Alba a Halle Berry
-umelec: Beyoncé
-dessert: Čokoládova zmrzlina
-televízná show: Entourage

                                     -----------------------------------
Facts(english)
[x] Here's a little flag of Barbados that you may (if you like) put somewhere on Rihanna's page as she's very patriotic and would love the world to know where she's from. The ring she displays at the end of the 'Pon de Replay' video is designed like the 'broken trident' that's in the middle of our flag, which is her way of connecting with us at home and letting the world know of her Bajan pride. (Bajan is slang for Barbadian). [NOTE]. This fact was emailed to me by CULLEN KONG, and I have kept, and posted it in her own words.
[x] Won the Miss Combermere school pageant in 2004
[x] Rihanna is one of three new artists that Jay-Z has signed to Def Jam; Teairra Mari and Ne-Yo are the other two.
[x] She was discovered by music producer Evan Rogers while he was vacationing in Barbados, with his wife
[x] Rihanna is the eldest sibling to her two younger brothers; named Rorrey and Rajad.
[x] Several other major labels were vying for Rihanna, but Def-Jam made such an amazing deal that,the scheduled meetings with the other companies were canceled.
[x] "Pon De Replay" was heard on HBO's hit TV show 'Entourage' in the 'An Offer Refused' episode during the club scene
[x] Rihanna dislikes dishonest people. She prefers people to be honest and loyal.
[x] Jay Z was skeptical about Rihanna initially. Brown played him the record that's turned out to be her first single, "Pon De Replay," and Hova was nervous about it.
[x] Rihanna's "Music of the Sun" album was be produced by Vada Nobles ("The Miseducation of Lauryn Hill").
[x] Growing up, she idolized Whitney Houston, Mariah Carey, and especially Beyonce.That's whose career she most wants to emulate.
[x] While growing up in Barbados Rihanna visited the beach everyday with her two brothers.
[x] Fatima Robinson choreographed Rihanna's videos'; for both Pon De Replay and If It's Lovin.
[x] During Rihanna's audition for Jay-Z in New York, Rihanna performed the songs "The Last Time", "Pon De Replay" and Whitney Houston's version of "For The Love of You".
[x] Psychology was Rihanna back up plan incase singing didn't work out for her.
[x] During the "If It's Lovin" video shoot, one of Rihanna's male dancers kept spraying water in her face. Her hair was wet and her makeup was barely on anymore. She zoomed up behind him and bumped him off the jetski.
[x] In her spare time Rihanna likes to listen to music and catch up on some sleep. She may also sometimes call her friends in Barbados.
[x] The single, "Pon de Replay" peaked at number two on both the U.S. Billboard Hot 100 and the UK Singles Chart
[x] In 2006, Rihanna landed several endorsement deals, including ones for Nike and J.C. Penney. 
[x] "SOS (Rescue Me)" was used in her endorsement deal with Nike
[x] "SOS (Rescue Me)" reached number one on the Billboard Hot 100, Pop 100, Hot Dance Music/Club Play; and debuted at number one on the Hot Digital Songs
[x] The second single from the "Girl Like Me" album, "Unfaithful" written by Ne-Yo
[x] Rihanna had a cameo role in Bring It On: All or Nothing (2006)
[x] Keeps in contact with her Bajan best friends Leandra and Melissa
[x] Plans to learn to play the acoustic guitar, or the keyboard or piano
[x] Her show at Foxwoods marks her first visit to a casino
[x] Was in cadets approximately for 5 years
[x] Plans to study Business and Psychology
[x] Her father, Ronald, supervises at a garment factory.
[x] Her mother, Monica, is an accountant.
[x] When Rihanna was about 13 or 14, she snuck out to a club.

Komentáře
Přehled komentářů